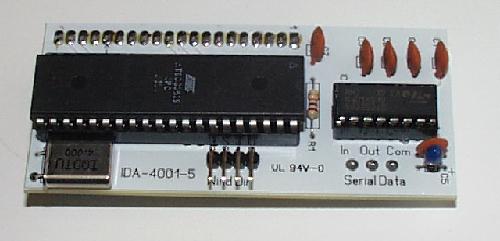 IDA-4001-5 CPU Adapter
The Heathkit Model ID-4001 Digital Weather Computer is a microprocessor-based meteorological unit which measures and displays several weather variables. It was designed by Heathkit in the mid 70's using a then state of the art MK3870 single chip microprocessor from Mostek. Unfortunately this part is no longer supported by Mostek, and the original program code has also been lost to history.
Microprocessors have come a long way since the mid 1970's. It is now possible to get a single chip microprocessor that is field programmable using modern flash memory. This memory can be written to, as well as re-written. Since semiconductor geometry's have become smaller and smaller, it is also possible to get a CPU with 8k of ROM space and 512 bytes of EEPROM for the same price as the old Mostek part that only contained 2k of ROM space and no non-volatile RAM. Because the new part contains 512 bytes of non-volatile RAM, it is no longer necessary to save data in the CMOS RAM chip. The extra program space has been utilized to add some additional features to the microprocessor that were not available in the original part. Although the original ID-4001 had a parallel type of interface for downloading data, this data was often corrupted because there was no way to stop it from changing while you were trying to read it. We have designed the new chip to save a snapshot of information, before being sent out a serial port so this kind of problem does not occur. In addition, a fading in and out of the clock and date, as well as the indoor and outdoor temperature has been added to make a more pleasing display.
We hope that you like the new features of the adapter board and are already planning new products to add to our product line in support of Heathkit products. We are always open to suggestions and welcome your comments.
$50.00 Plus Shipping & Sales Tax*


* 8.75% Ca Sales tax applicable to any shipments to California
Download Manual